Applause
Don't listen to us, hear it from our guests!
Here are a few of the great things our guests have said about Costa Verde.
All

Tripadvisor

Restaurants

Bride & Groom

Awards
Costa Verde Hotel – Manuel Antonio, Costa Rica
Beautiful hotel and property with amazing ocean views. Lots of monkeys just a few feet away from our porch. Located a couple of miles from the Manuel Antonio National Park and the beach. Service is very good. Nice large room with a big private porch. Excellent offshore fishing area.

Favorite spot in Manuel Antonio
This is a truly Costa Rican Hotel, and it's location directly on the beach is perfect. The people who work here are so nice, and so accommodating, especially Raul at the front desk and Maria around the rooms, and the maintenance guy who will show you where the sloths hang around the property… The food at the little restaurant is good and inexpensive and the rooms are spacious with air conditioning, but what really shines is the location, and proximity to the beach, national park, restaurants and wildlife. It took staying at 6 or 7 places in Manuel Antonio for me to find this place and I wouldn't stay anywhere else. It's paradise.
Room Tip:? Let the staff choose, they are super helpful and will give you the best room available.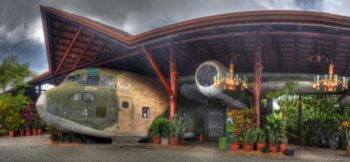 Unique experience
When I first arrived in Manuel Antonio it was dark so when I saw what looked like a cargo plane sticking out of the restaurant, I at first thought darkness had obscured my vision. Sure enough, it was a plane – that in itself is a novelty. The restaurant is built around this plane – the inside of the plane has been converted into a bar area. The remainder of the restaurant encompasses two floors with some great views of the water.
I found the wait staff very helpful and friendly and the food was awesome. We ordered the seafood platter (special of the day) and it did not disappoint – loads of seafood more than we could eat. Sangrias are delicious too.
Another bonus… it was right across from our hotel the Casitas Eclipse.
Visited February 2013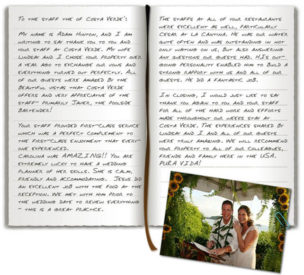 Adam & Lindsay
My wife and I chose your property over a year ago to exchange ours vows and everything turned out perfectly. All of our guests were amazed by the beautifull vistas that Costa Verde offers and very appreciative of the staff – primarily Javier, the poolside bartender.
Your staff provides first-class service which was a perfect complement to the first-class enjoyment that everyone experienced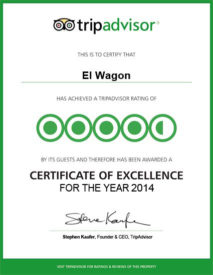 Stunning Views
We happened upon Costa Verde by a suggestion from a waiter at a nearby restaurant, and we couldn't have been more satisfied by this hotel!! The room is very spacious, has all the comforts of home with a full kitchen, two comfortable queen beds, free internet, satellite TV, and very cold A/C for a very low price compared to what we are accustomed to paying for these creature comforts!! The best part of the room was the huge balcony with handmade Costa Rican furniture and rocking chairs over looking a 180 degrees of the National Park and beaches!! The view was amazing!! We saw monkeys, sloths, parrots, toucans, and never had to leave our room!! Fantistico!! We will be back!! Great job to the entire staff!! Food at the restaurants were excellent as well!! Pura Vida!!
Room Tip:? We loved room CVII8 overlooking the adult pool and great sunsets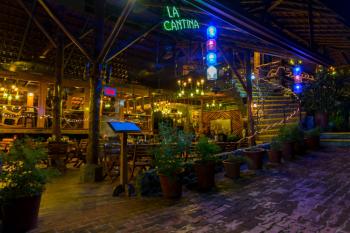 Really enjoyed this place! Great food and service.
We ate here on 4th of July, it seemed fitting since it's the only BBQ place in Manuel Antonio. We weren't really sure what to expect but wow was the food delicious.
The staff is friendly and the upstairs area has a view of the jungle. The open flame grill where they cook all the meat is downstairs but it was a warm evening so we decided to sit upstairs where the breeze was.
My husband ordered the Pineapple Chicken Breast, my son had the Nachos, my daughter ordered the Tuna Teriyaki, and I had the Chicken and Tenderloin mixed Brochette. Everything was amazing with good portions. The meat was tender and cooked to perfection.
We rounded off dinner with Tres Leches and Cheesecake for dessert. Dessert was good but dinner was the standout.
While eating we even had a visit from some monkeys.
Highly recommend.

Spectacular grounds, lots of wildlife, great rooms, I highly recommend
The grounds are lush and gorgeous. It's not simply a jungle, they put a lot of thought and effort into the design and types of plants planted. The view of the ocean the hotel commands is breathtaking. There very well may be more monkeys than people. We saw a few howler monkeys, lots of white-faced capuchins, and hordes of squirrel monkeys carrying their babies on their backs. We also saw a sloth, a coati, and countless birds. One of the trees on the property produces a wonderful smelling flower that apparently is the key ingredient in Chanel No. 5.
We had an efficiency, which had a fridge, a stove, and a table on the deck for breakfast. It was a huge time and money saver. The kitchenette came with cheap aluminum pans, assorted dishes and silverware, and dish soap. The last item is a nice bonus. we usually pack our on dish soap to wash our water bottles out, but having it provided is one less thing to worry about in our quart-sized bag for security.
From talking with other people that stayed in the main hotel building, I understand that they can get a little noisy if there are some loud guests. Our room was in a building with 3 other rooms, had a jungle view, and a decent view of the ocean.
We did rent a car, which was definitely the way to go. We rented from Vamos (had a great experience with them as well). If you didn't have a car, you'd have to take the bus or cab everywhere, so it is certainly doable, but the convenience of our own car was worth quite a bit. There are a few restaurants (owned by the hotel) within walking distance that are pretty good. The food is of good quality, but it's the same at all of the restaurants (just the setting changes, but the settings are all pretty spectacular). I wouldn't walk very far from the hotel as there isn't much of a sidewalk and the road is narrow and curvy.
I will say that the hotel office staff was only reluctantly helpful with excursions. They weren't pushy in any way, but didn't give many excursion other than those in their book. I stayed with my wife and two daughters for 8 nights and we found tons of stuff to do. The kids (8 and 10) loved the public beach. We didn't find any rip currents but the waves were big enough to have a great time in.

One of the best locations on the planet
Of nearly 30 trips to Quepos and Manuel Antonio Costa Verde has become my family's hotel of choice. We have stayed here many times and enjoyed every minute. The people are welcoming, helpful and always friendly. Can't wait to get back again.
Room Tip:? E5 and E7 are perfect for family and seclusion. Awesome monkey activity almost every morning.
Stayed April 2015, traveled with family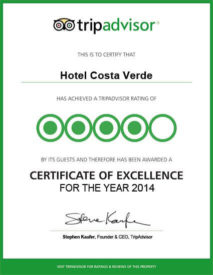 Perfect pool and (at least in places) more monkeys than people. Amazing.
View from the pool across the jungle and national park to the beach was amazing. Perfect place to enjoy the start of the day and end of the day with a cocktail. Resident iguana and the pool and bar area too. Their slogan is more monkeys than people and at least in certain parts of the grounds, that seemed to be the case. Breakfast, although not included, was great and again – great views. Room with a balcony and two beds was spacious and had a really nice feel to it. Overall: just couldn't have been better and wish we back there now!!
Stayed March 2015, traveled as a couple.

Best Place to Get Married!
Chris and I had our wedding there the week of March 9th 2015. Isabel, the wedding planner, is such an amazing person. Through all my stress and emails, she helped my family and I through it all. Everything from the food to the details of the flowers and decorations were perfect! Isabel is so professional, but also very easy to talk to.
The staff was awesome! They made sure we were happy and had everything we needed. The lifestyle is very relaxing and there is no feeling of being rushed. So if you are in a hurry, this place is not for you! Enjoy the moments and enjoy the beauty.
There are a lot of animals to see! Monkeys, toucans, iguanas, sloths and other exotic creatures. There are a lot of hills and stairs which gets your calves looking really nice for when you go back home. 😉
We would love to visit again and we are already saving to come back in the future! Hotel Costa Verde and Costa Rica have a very special place in our heart, and we will never forget the beauty and the people. PURA VIDA!
Room Tip:? Costa Verde II has great views!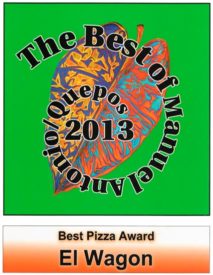 Loved every minute of it!
I recently got married at Hotel Costa Verde and have nothing but good things to say about the place. The views from our area (CVII) are unbelievable and everyone was very nice and helpful. Isabel, our wedding planner, went above and beyond making sure our wedding was perfect, even with another wedding the day after ours.
I can't wait to go back!
Room Tip:? The adult area, Costa Verde II, has the best views and the newer, nicer rooms.

Wonderful room, people, area and experience.
Clean attractive room. Great views and balconies. People who go out of their way to help you. Perfect location. They even took me with their vehicle to show me a sloth hanging from a line. They knew I had wanted to see a two toed. A monkey was in the tree my us one morning. It was a fun place to be.
Stayed March 2015, traveled as a couple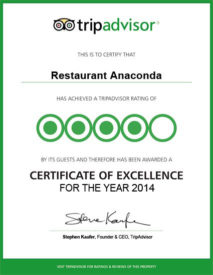 Best Mahi Mahi and Tuna in town!
We ate here 4 times in 5 days that is how good it is. I ordered the blackened Mahi Mahi and my boyfriend ordered the ginger Tuna three times! Every single time it tasted awesome and never disappointed. We also went for lunch one day and order the burgers.
They were huge and very good as well. The menu has tons of excellent selections and the drink menu had a lot of options. Anyone from Canada who likes paralyzers needs to try the Monkey bizz drink… soooo good.
The staff were very attentive and friendly. If we ever go back…
We will definitely be putting this on our must stop at list.
Visited May 2013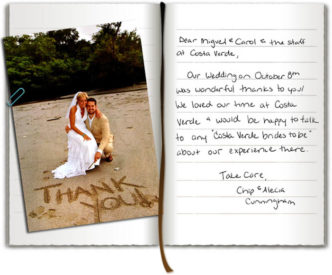 Chip & Alecia
Our wedding on October 8th. was wonderful thanks to you! We loved our time on Costa Verde & would be happy to talk to any ???Costa Verde brides to be??? about our experience there.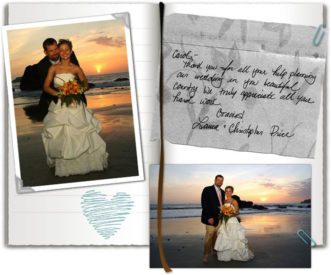 Laura & Christopher
Thank you for all your help planning our wedding in your beautiful country. We truly appreciate all your hard work.
Amazing stay in the 727!
We stayed in the plane and yes it was amazing! It was not cheap so my husband and I only did one night but it's worth knowing that there is one room with a king bed and another room with 2 king beds, so perfect for families or a couple of couples, and that would make it more affordable. Loved showering in the cockpit. The rest of the hotel was great (lovely pools, nice grounds, helpful staff, good location a short walk to the beach and Manuel Antonio park). Plus one afternoon we came back to find a troop of the tiny squirrel monkeys playing around the fuselage- magical!
Room Tip:? Stay in the 727!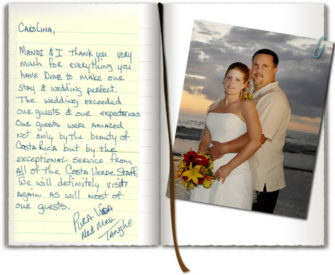 Mandi & Dave
Mandi & I thank you very much for everything you have done to make our stay & wedding perfect.
The wedding exceeded our guests & our expectations. Our guests were amazed not only by the beauty of Costa Rica but by the exceptional service from all of the Costa Verde staff.
We will definitely visit you again as will most of our guests.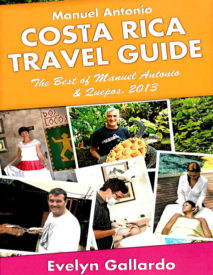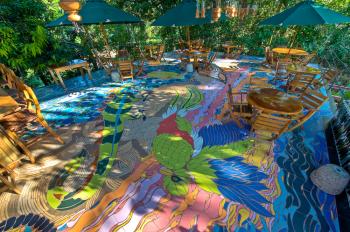 Best in Manuel Antonio
After 11 years living in Costa Rica, and after many, many trips to Manuel Antonio, we have finally found a fail-safe restaurant. We visited with 5 friends and our toddler – all were very happy with their meals, the service, the live music and ambiance. The food was delicious and by far the best value for your money.
We regularly visit the other typical Manuel Antonio favorites, like Barba Roja, Sal Si Puedes, Kapi Kapi, etc. – and this was just as good, if not better, for much less money. They are children friendly and provide a pleasant, laid-back atmosphere that anyone can enjoy (couples dining out alone to families). My husband ordered the rib eye and LOVED it.
It was on par with any steak house in the US and Costa Rica never gets this right – so that??™s a huge compliment. I ordered the mahi mahi which was buttery and delicious. We asked the chef about the chimichurri (dipping sauce) for the steak because we loved it so much. The grilled veggies were a real treat in a country where they rarely eat many vegetables. Even the corn on the cob was good – a real feat. Other highlights: spicy Caribbean shrimp, seafood casserole, and guacamole. Too bad this place doesn??™t receive more attention.
We will return every time we visit (and skip all the other ???famous??? Manuel Antonio joints that don??™t live up to their reputations anymore).
Visited May 2013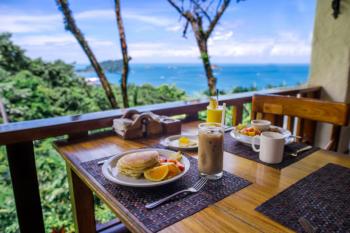 Fantastic Lunch
Stopped for Lunch at Anaconda on our way to Manuel Antonio National Park. Sign ???more monkeys than people??? really got our attention. The restaurant is nestled in the hill and looks like a tree house in the Jungle. In addition to having a fantastic view of Manuel Antonio Beach the food was outstanding. Kids had milkshakes, Spaghetti, and chicken fingers. My wife and i shared a BLT and Costa Rican version of a tomato and mozzarella salad. My wife usually never cleans her plate but she ate every morsel. Everything was perfect. The leather rocking chair seating. the unique wooden tables. The monkeys in nearby trees. We highly highly recommend this restaurant.
Visited March 2013

Wonderful place!
We had the best dinner experience here. Great views and atmosphere. Incredible service. We told our waiter my wife had to be gluten free. To our amazement he asked if it was because of allergy or celiac (sorry if spelling is off) disease. When we said celiac disease he offered to have the chef make a special tangerine sauce for my wife??™s chicken plate! Delicious and no extra charge. Just the most helpful waiter ever!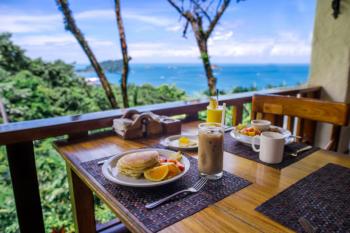 Amazing food, good food and drinks
As everyone else has said – the view is amazing! We went about an hour before sunset and got some great pictures – even though the sun set just out of view when we were there (March). I had one of their red snapper dishes and my wife had a mango sea bass – both were great. Service was good as well.
Get there a little early and walk around a bit, there are some great opportunities for photos and there??™s a jet (747) that the hotel next door turned into a hotel room. Someone was staying there so we just took pics from below but would have loved to have seen the inside of it.
Visited March 2012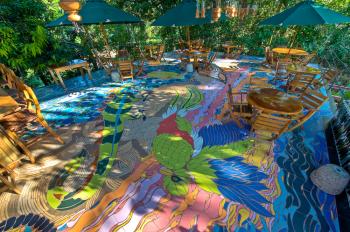 Wood-fired authentic Italian pizza next to a Costa Rican paradise
On the windy road about a mile from Manuel Antonio village, overlooking the jungle, you can find the Wagon. We were in the mood for pizza and this place was recommend by our hotel. We came early (5 pm) and they were only serving pizza, but that is just what we wanted.
We tried 2 different ones, basil, tomato and mozzarella and 4 cheese. They were both excellent in the very thin, Italian style. My husband, a New Yorker who is quite snobby about pizza, and these were not New York style, still liked them a lot. While not large, they were big enough to provide us with leftovers.
The setting was beautiful, open to the air as is typical. The tables were large and the seating was, as I recollect, in rocking chairs – or something like that. The service was very friendly, but not terribly quick, although that is not unusual with pizza.
Visited July 2013

Delicious pizza!
We had pizza at El Wagon for dinner one night and it was delicious! The place was packed, and for May that is uncommon. The wait staff was wonderful and the pizza was ready in less than 10 minutes! They were cooked in a wood fired oven.
The man making the pizzas that night was so energetic and was dancing and throwing the dough in the air. It's always a pleasure to see someone enjoying their job! The chairs are so comfortable that I didn't want to leave 🙂
If you go, be on the lookout for a sloth that hangs in the tree and on the power lines right in the front of the restaurant.
Visited May 2013

Best Pizza. Ever.
We had read how much better this restaurant was than El Avion, even though they are owned by the same person. We were staying at Casitas Eclipse, so this was only about a 2 minute walk. We were greeted by the cook.
My husband had never had wood-fired pizza before. Usually he fusses about eating pizza, but he loved this so much we ate here twice in the 2 days we were there! We loved watching him make the pizzas. The ambiance was incredible.
Our first night there, we ordered a bacon and pineapple pizza, and he asked us if we liked salami, and when we said yes, he added it to our pizza.
Everyone was very friendly. This was one of the most reasonably priced restaurants we went to in Costa Rica!!!
Visited June 2013

This place is fabulous.
I can??™t believe the poor reviews and the #23 ranking for Anaconda. We ate there every day we were in Manuel Antonio and loved it. The views are fabulous and the staff are the best people in the world. We talked to the waiters extensively and got to know them and a little bit about their lives.
We liked Eric and his brother Airner and young Bruce. They are all significant assets for the restaurant and the hotel. We thought the food was great. Breakfasts were yummy. Lunch was good and Eric made us a pitcher of margaritas that was awesome with the grilled vegetable and hummus platter. Lighten up there a bit you wealthy diners. Have a couple margaritas, relax and enjoy.
Pura vida.
Visited February 2012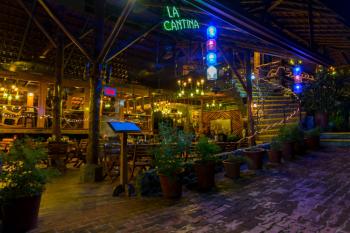 Best place in MA
We dined at a different spot every night for a week and this was the best place we ate.? The food was better than other higher priced places in the area.? It is very fresh and a great value.?  There is a large selection of creative and delicious cocktails.? The Jungle Boys were an excellent band. The decor and jungle view are also very inviting.
Visited May 2013

Jeremy & Shelly
We would like to extend a special thank you to the staff at Costa Verde for a wedding day that exceeded our expectations. You did a wonderful job of arranging everything for us, which really took the stress out of our stay. The flowers and cake were beautiful, and the view from the tent was breathtaking.
Carolina truly went above and beyond, even arranging hair and makeup only several days before the wedding.